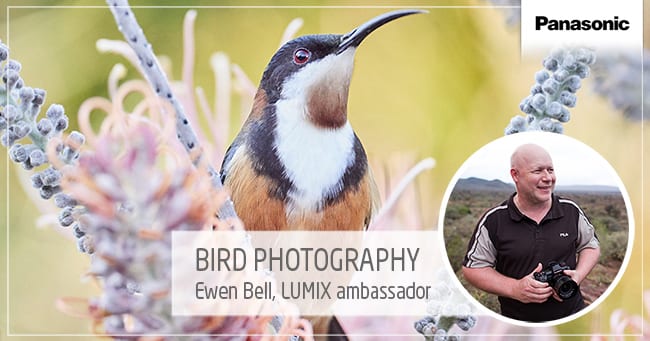 The feathered variety of wildlife has become one of Ewen Bell's favourite photographic pursuits in recent years, so much so that the renowned Australian photographer and LUMIX ambassador happily calls himself a 'bird nerd'. Ewen believes bird photography has never ever been more rewarding than it is today, thanks to better lenses and more convenient camera systems making the experience less of a challenge and more of a joy. The star player in Ewen's camera kit is our photo-centric LUMIX G9 and he credits this agile mirrorless camera with allowing him to see the world anew. Ewen Bell joins us here for a fascinating chat about his ever-evolving photographic style, favourite camera features, and advice for budding bird photographers.
What gave you a start in photography?
I learned photography in the days of film and dark rooms, but it wasn't until everything went digital that I had a chance to make a career out of it. Better technology meant I could learn faster and achieve results that just weren't possible with film. I could shoot a lot more content, and much better content, with the digital gear. Each time a new technology comes into photography it presents an opportunity for people to step forward and work at a level that wasn't possible before.
How do you describe your photographic style?
I shoot editorial, and everything that encompasses. It's about telling the full story in all its nuances. For a single editorial piece I may need a powerful landscape image, still life frames that reveal texture and detail, portraits of people in the context of their lives, and elements of nature or wilderness that are unique to that region. Editorial means depth and variety, bound together by the story. Achieving that brief requires that I be ready for anything, and ready to chase the light when it's on. I rarely get a second chance at it, I just have to make the most of what opportunity offers.
How is the G9 changing how you shoot?
Wildlife is the big change for me since picking up the G9. The weight is one big advantage, both when travelling or in the field. I can have a bag with two bodies and four lenses, one of them the equivalent of 800mm, and still have space for a drone and water bottle. But that wouldn't matter unless the performance was there. I've taken the G9 on a few wildlife trips in the last 12 months and in truth I have an unfair advantage. The larger viewfinder and superb autofocus allows me to target wildlife with precision. I'm getting a hit rate on my focus that is far beyond anything I was previously capable of.
What features on the G9 are helping you the most?
Precision focus is amazing. The combination of a larger viewfinder, quick placement of the focus and AF speed mean I can target the eye of a bird with confidence. I get the first set of frames locked down and then I can start being creative. Speed of response is critical in these situations, you have to be able to rely on your gear to keep up. I also have quick access to very high continuous modes. I setup my custom mode for wildlife (Aperture priority wide open, auto ISO and minimum of 1/1000th of a second) to shoot at 12fps, but can jump to 60fps at the flick of a switch.
What is your "Photography for Travellers" website about and how do you find time to publish it?
Teaching and writing is a big part of who I am. I'm the former "Editor at Large" for Digital Photography magazine in Australia, and still write for the UK version, plus National Geographic Traveller and a few other UK titles. The trouble is that much of what I want to share about the art of photography simply doesn't fit into these publications. So I needed my own publication online to share everything that I learn while out shooting.
Much of the website is derived from conversations I have while teaching on workshops. I learn from the very people who learn from me. They challenge me and push me and are always pushing me beyond the existing norms. My website, Photography for Travellers, reflects all of this. Most of the content is derived directly from my life experiences, so it's not really extra work, it's just taking a little time to write down the gems. The core of the site is very simple. Change your thinking first, and your f-stops later. Anything that frees you from convention can lead you to unexpected treasures.
Now with 50% more parrots…https://t.co/kmGZRzk6OA pic.twitter.com/4Ljm4YItpP

— Ewen Bell (@ewster) August 21, 2018
What do you feel is the best way for someone to improve their photography?
Slow down. The biggest challenge for most people is to slow down and stop rushing their experience. Take the time to fully experience the moment before you capture it. Slow down your plans for travel, give yourself time in each place to get to know it, leave room for you to explore the possibilities. Don't rush it. If you try to shoot everything then you do none of it well. Everything flows from slowing down. You create time to think things through, to get familiar with a subject, and to reshoot over and over if need be. We learn best from our mistakes, and that only happens if you slow down and make time for those experiences to happen.
You're one of the experts leading our upcoming Panasonic LUMIX Parrot Walks. What should people expect if they enroll in these workshops?
Good gear and a relaxing walk with the wildlife! I live in the Melbourne CBD and the one thing I really miss is nature. Our apartment looks out onto other apartments, and bricks and glass. So I started going for walks in the parklands around the city, and was amazed just how much diversity of birds are thriving out there. Packing a LUMIX G9 and a telephoto lens made these walks even more enjoyable, as I would stop and spend time shooting the parrots and honeyeaters. It seemed like the perfect foundation for learning to shoot wildlife. You meet up in the city and we have a special briefing, then venture into the parklands to photograph the birds. Everyone will get to see for themselves what can be achieved with the G9 system, and go home with some lovely prints they captured themselves.
With the help of Panasonic we've made these one-day workshops almost free, so that anybody who has a genuine interest can participate. We don't have to fly across the world and hire Landcruisers just to shoot birds, we can do it in our own backyard. So many people struggle with wildlife photography because they can't afford the gear, or can't see themselves lugging around a fast 600mm lens even if they could afford it. I want those people to try to LUMIX G9 and see how achievable their creative goals are. Just a little bit of advice and practical experience can set them on their way to a lifetime of enjoying nature through the lens.
Panasonic LUMIX Parrot Walks in Melbourne, Perth and Sydney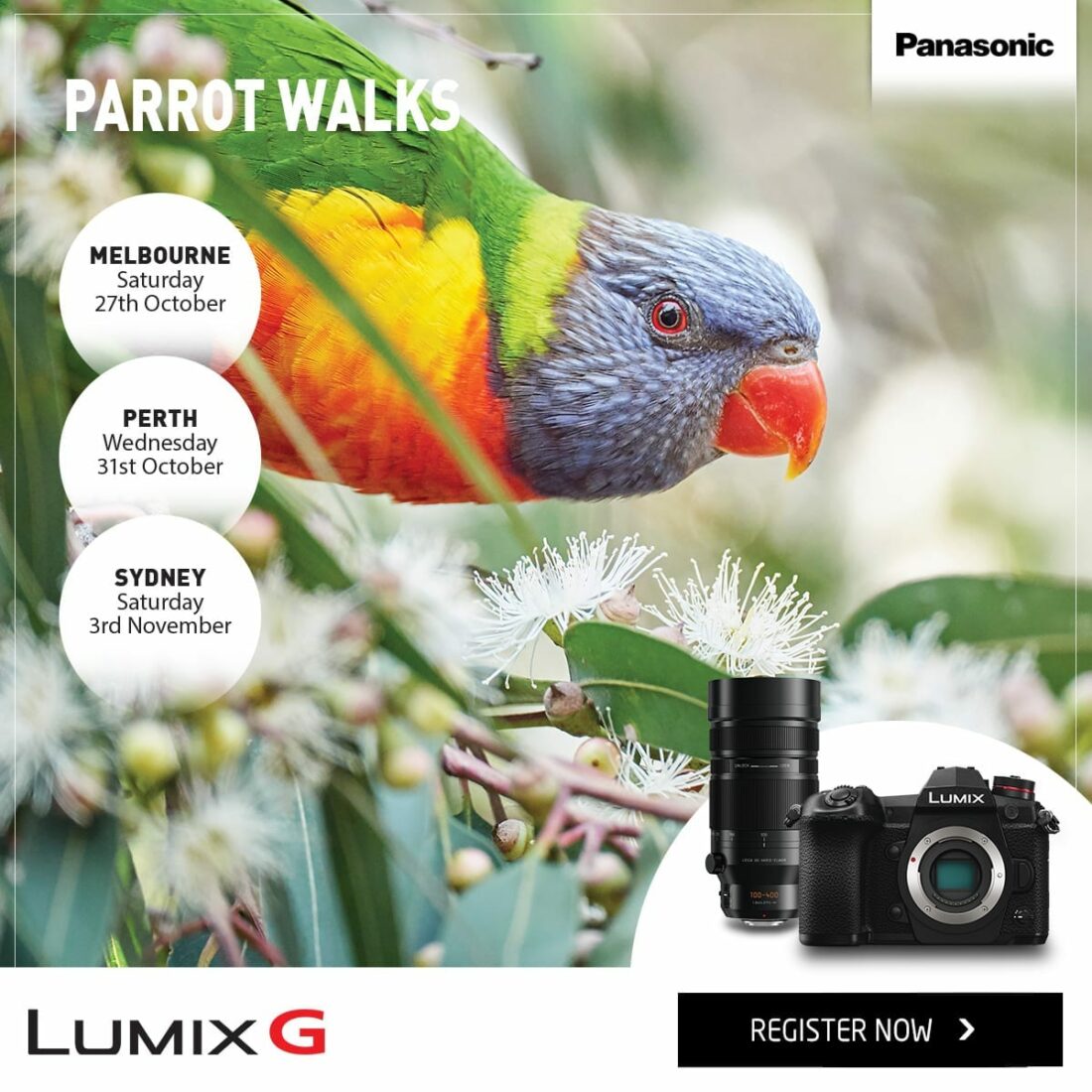 Join Australian bird experts, including guide and author Tim Dolby (Melbourne and Sydney events) and professional photographer and LUMIX Ambassador Ewen Bell on a walking tour as they introduce the art of nature. Plus try out the brand new LUMIX G9 camera, the ultimate camera that is changing photography.
REGISTER NOW
READ MORE
Ewen Bell's bird editorial and photography blog.
Ewen Bell explains how he sets up his Panasonic Lumix G9 for wildlife shooting. PLUS download the configuration to update your camera with these custom settings.