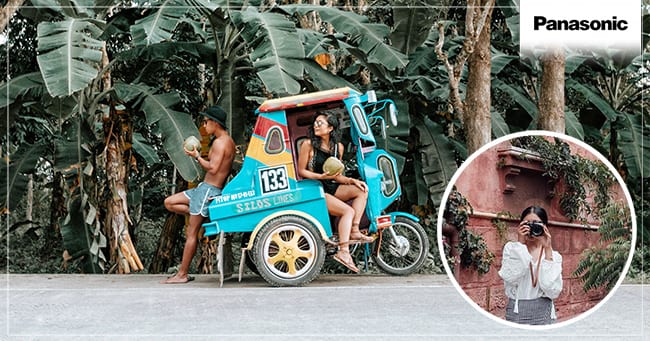 Born and raised in Australia, yet ever so curious about the world, Aubrey Daquinag took her love for photography to start theloveassembly.com, a travel and lifestyle blog dedicated to inspiring young women to live a more creative and curious life. Aubrey quickly gained worldwide recognition for the quality in travel content creation, partnering with Condé Nast Traveller in New York as the first contributing Australian travel and style blogger and collaborating with major brands across the globe.
Aubrey has spent the last few years making the world her office as she documents her experiences for an ever-growing audience on her blog and her dreamy debut book, Wander Love. We managed to catch up with Aubrey to chat about her travel philosophy, the digital nomad lifestyle, photography tips, and the LUMIX G9 camera she's using to document her current adventures through Europe.
"When we learn more about our world, we also learn more about ourselves."
– Wander Love
You see the act of travel as a means of personal growth and self-improvement. What have you learned from your solo adventures, and how does that shape your current approach to travel and photography?
I truly believe that when we learn and explore more parts of the world, we also give the chance to learn and explore more parts of ourselves. The most important thing I would say that I have learned from solo travel is a deeper understanding of self-awareness. Which is pure gold in the world of personal growth and truly knowing yourself.
My approach to travel and photography stems from simply capturing life and all the beauty around me to create memories. The power of a photograph can transport you back to a particular time, place, feeling and I'm still very fascinated with this concept of 'making time stand still.'
It's finally here! ? my Travel Photography Collaboration with @PanasonicAU ✨ https://t.co/F2PAgCNtAb

— Aubrey Daquinag (@theloveassembly) October 10, 2018
Fans of The Love Assembly connect deeply with your philosophy and photography. Is there one question your followers ask the most? If so, how do you answer?
I always get asked where is my favorite place that I've travelled to, and it's the hardest question to answer with just one place because there are multiple places that I have loved for different reasons. But my top picks would definitely have to be South America; all I wanted to do was further learn Spanish and dance, and that's exactly what I did for the months of solo travels I did there through Brazil, Peru, Colombia and Chile. I love the freedom and rawness of island life in, so favourites include Tulum, Mexico or Palawan Island in the Philippines. I also love cities with a strong sense of hustle that includes cute cafes scattered about like in New York, Melbourne and Tokyo. Meanwhile, Paris is so romantic and my favourite for overall bohemian and effortless French girl style. Do you see what I mean? It's a very hard question!
Your book Wander Love spans everything from practical advice to dreamy photos and destination guides. What you hope people will take away from these lessons you learned during life on the road?
Essentially, my message that I want people to take away from Wander Love is that your dreams are worth pursuing, no matter how crazy you think they are. We all hold unique talents, skills and interests. If we let it, travel can help us uncover them through self-discovery and photography allows us to document it creatively.
You have the power and choice to create your own reality – to be in charge of designing a life you love. Ultimately, I want to show through my own actions that a step out of the comfort zone can lead you to some incredible places in life that you would have never ever even dreamed about. It can be scary and uncomfortable at the time but damn, it's worth it!
Of course, not everyone can be a full-time digital nomad. What advice do you have for people who want to emulate your travel style in a more limited holiday timeframe?
I'm often going from one destination to the next in different seasons with limited luggage space so a more structured timeframe would be a lot easier to travel in style, I think! It all comes down to packing for the destination of choice and the activities you have planned.
Colour capsules are a huge part of the strategic packing element I love to focus on. It involves working with the vibe and colours that are reflected in the destination of choice, and basing your colour capsule wardrobe from that palette. Start with a foundation of neutrals that are versatile, add colours that complement the destination and that you can mix and match, and then personalise with accessories you pick up for a local style twist. That way your look works cohesively with your holiday destination.
How long did it take you to master the art of creative self-portraits taken with a tripod and timer? And what are your top tips for budding photographers wanting to use this method?
I really enjoy collaborating with other creatives and photographers and I value the process of seeing their point of view. For me, this method purely came from necessity as I was traveling solo and couldn't rely on anyone. As a photographer who already has an eye for composition and creative direction, I know how I like things positioned in the frame and how to set it up. For those who also want to get the most out of this method, I feel that the best place to start if you're on the road is in a less crowded space like your hotel or early in the morning at a famous landmark or sight. That way you can practice without feeling the pressure of eyeballs. Sometimes it's not the most practical thing to whip out and do when there are a gazillion people around. That's when the option of asking someone or connecting with others and collaborating is best.
Self-portraits let travellers put themselves in the frame but what's your advice for personalising travel shots when the photographer is behind the lens?
Knowing your style is the key to photo personalisation, followed closely by how you edit the image in post-processing. I like the raw and real process of simply capturing life, so when I'm behind the lens I love to be unassuming and snap what catches my eye while keeping it natural. Whether shooting buildings, people, landscapes or interior lifestyle, I'm not the type of photographer to get trigger happy. I'm one who will wait and wait until that element is in a position of the frame I makes me happy. Photography teaches me patience, that's for sure. Personalising your shots comes from knowing your craft. My advice it to experiment and find a style that speaks to you.
We'd love to know more about current travel adventure… Where are you headed and what do you have planned?
I've packed my bags and headed out for a European summer: first stop is London which will be my base, a sneaky week in Paris is also in order, and then who knows where… I'm pretty open and flexible when it comes to travel plans and I love slow travel because this working lifestyle allows me to be on the road and work remotely. Come join the journey @theloveassembly because I promise it won't be boring!
We're thrilled that you'll be taking the LUMIX G9 mirrorless camera. Can you tell us why the G9 is a good choice for you?
For the longest time I had a DSLR camera and for a petite solo female traveller it was a very chunky load to carry with me on my travels. I needed a camera that was light but didn't compromise on image quality and I have since switched to a mirrorless micro four thirds camera. I was using the LUMIX GX8 before upgrading to the G9 and have been thrilled with the results that I've taken on multiple travels now! The body is sturdy and weather resistant/dustproof, it has 2SD card slots, a joystick focus, an LCD flip screen that's perfect for vlogging or seeing the correct framing when you're photographing from a high or low angle, and an electronic viewfinder as I always prefer looking through a lens rather than a digital screen.
The G9 is super-fast with a high frame rate of 20fps with accurate continuous autofocus and a 20MP resolution, which is great image quality for the majority of digital work I do. But it also has up to 80MP high resolution for large format prints that comes up from time to time. Most of my work is handheld and the G9 has great image stabilisation. The main feature that I think is extremely helpful for this modern day is the wi-fi and Bluetooth that allows for creative self-portraits with the connection and remote operation through the Panasonic app on my iPhone but allows for instant sharing online.

Aubrey Daquinag's Camera Kit Essentials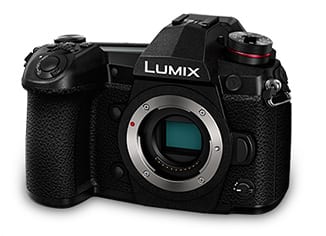 LUMIX G9 Mirrorless Camera
A light camera that doesn't compromise on image quality! I love the G9's image stabilisation for my hand held work and the wi-fi feature for self-portraits and instant online sharing.
LUMIX G9 Mirrorless Camera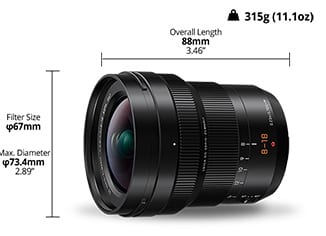 Leica 8-18mm f2.8
I love the ultra-wide angle! It's my go-to lens as I'm mainly shooting out and about for travel and landscapes, and my images are focused on the overall environment and place.
LEICA DG Lens H-E08018E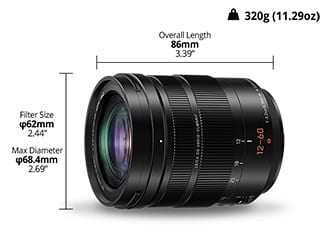 Leica 12-60mm F2.8
I also shoot products while I'm on the road for brand collaborations. This is the lens I use for still life sets that I style and also in cafes. It's the kit lens, too.
LEICA DG Lens H-ES12060E