It fits snuggly on the palm of your hand and it's a great option if you want to step up from your smartphone or step down from your not-so-compact or not-that-good-little-camera. That's right, our smallest-ever Lumix G Series camera is coming!

The Lumix DMC-GM1 hasn't even hit the market and it's already winning fans and awards! As reviewers get their hands on pre-production models of the DMC-GM1, it's clear that this camera is one impressive little unit. Designed with both style and portability in mind, this 'pocket rocket' camera, as described by CNET, gives photo enthusiasts the latest Compact System Camera technology – without compromising on all innovative features of G Series cameras.
REVIEWS
"It's impressive that Panasonic has managed to compress its excellent technology into a body as remarkably small as this." – Techradar.
"Wow — we're huge camera geeks here at IR, and few models this year have excited us as much as the soon-to-be-released Panasonic GM1, a truly "micro" Micro Four Thirds camera. Now that it's been put through its paces in the IR lab, we're even more excited." – Imaging Resource.
"The Panasonic Lumix GM1 offers all of the advantages of a compact system camera, including access to one of the largest ranges of lenses for mirrorless cameras, from Panasonic, Olympus and others. (..)  Despite being the smallest Micro Four Thirds camera, and also being smaller than other mirrorless cameras, the Panasonic Lumix GM1 doesn't compromise on image quality or features, and delivers advanced features and options in a camera small enough to fit in your pocket even with the lens attached!" – from ePHOTOzine (Editor's Choice with 5 Stars).
"Verdict: The smallest CSC to date, and one of the best too" – from Expert Reviews (Best Buy Award with 5 Stars).
"When you hold the Panasonic Lumix DMC-GM1 in the palm of your hand, you realise what a remarkable feat of electronic engineering it really is. To all intents and purposes, the new micro four thirds system camera is a Panasonic Lumix DMC-GX7 in a lighter and much smaller body. In fact, the body is so diminutive that Panasonic has boasted that in width and height it is around the same size as a playing card… Panasonic profiling sees these users as wanting a camera to photograph their travels, family, friends and events – basically, it is as much a lifestyle accessory as it is a camera. However, the camera is a long way from being just a gimmick or gadget, and it offers much for enthusiast and professional photographers to get excited about." – Amateur Photographer, The world's no.1 weekly photo magazine.
"We've been able to use a pre-production sample of the camera to get an early indication of image quality, and so far we've been impressed. Colours are rich and vibrant, without being overly saturated, while there is an impressive amount of detail resolved by the 16 million pixel sensor." – Techradar.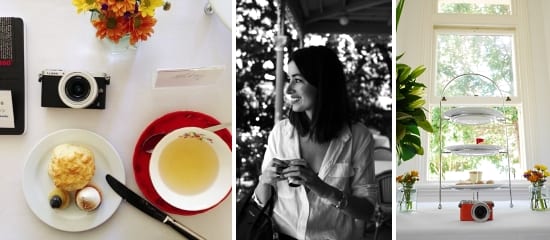 Over high tea, a group of fashionistas and mummy bloggers share their photographic love with our new Lumix GM1! Check out the photo gallery.
FULL AWARD REVIEWS
– Expert Reviews – Best Buy Award with 5 Stars
– ePHOTOzine – Editor's Choice Award
OTHER FULL REVIEWS
– Amateur Photographer magazine
PRODUCT
– Check out our Lumix DMC-GM1.