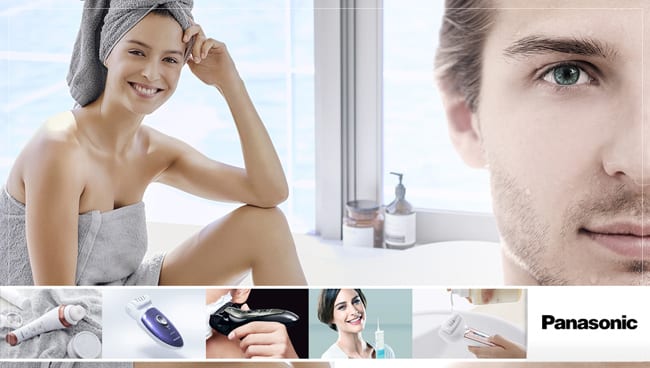 From the top of your head to the tips of your toes, Panasonic's range of personal care products offer everything to meet your style needs. The newest generation delivers pioneering technologies that turn your daily grooming routine at home into a luxurious spa experience. Take a look at this showcase of facial cleansers, epilators, shavers, body groomers, nose trimmers, and dental flossers to find the Panasonic salon-style tools you won't want to live without.
Go high-tech with your skincare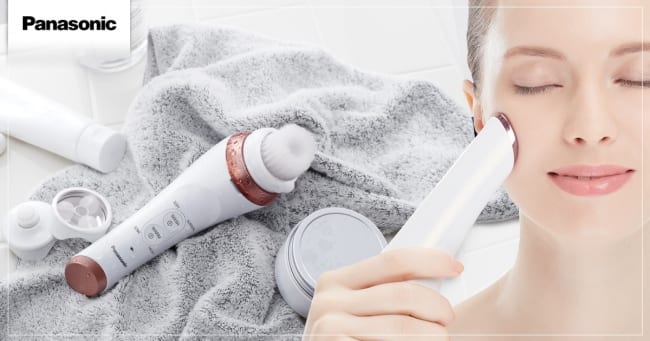 Science meets beauty with Panasonic's luxurious new micro-foam facial cleanser and ionic facial cleanser & toner. Inspired by the daily, highly-precise skincare rituals of Japanese women who are renowned for the smoothness and quality of their skin, these salon-style tools provide the ultimate therapeutic experience by using advanced technology while tapping into your existing skincare regime to work in harmony with your favourite beauty products.
READ MORE: Micro-foam & ionic multi-step skincare with Panasonic's facial cleansers
CUSTOMER REVIEW | Panasonic EH-ST63 Ionic Facial Cleanser & Toner
"Easy to use and really works!!"

– Amazon Customer Review, 5/5 Stars
CUSTOMER REVIEW | Panasonic EH-SC65 Micro-Foam Facial Cleanser
"This is my first micro-foaming cleansing device and it did not disappoint… It actually makes cleansing excited and fun and I feel as if this products helps to get everything from the skin gently."

– Influenster Customer Review, 5/5 Stars
FACIAL CLEANSERS
EPILATORS
Step up your hair removal game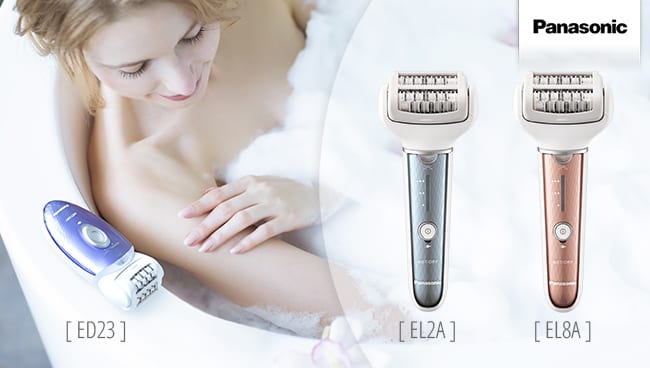 Want silky smooth skin in less time, with less pain and irritation? Choose an innovative Panasonic wet/dry epilator from our latest range and you'll experience gentle and efficient one-stroke hair removal. The premium multi-function model can also shave, trim, and pedicure, to give you smooth skin from top to toe.
WATCH | ES-EL8A | Multi-Function Three-Speed Epilator
EPILATORS
READ MORE: Launching a new range of Panasonic epilators
SHAVERS
Put your best face forward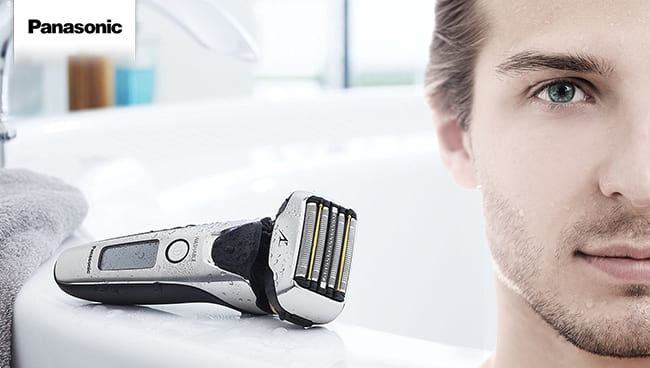 Precision shaving and facial hair contouring is a style essential, whether your go-to look is smooth skin, designer stubble or a debonair beard. Make sure your shaver has a pivoting head to follow the contours of your face and protect your skin from irritation, along with a multi-blade system to gently cut whiskers at the root. For stubble, sideburns, moustaches and beards, use a trimmer to hone your facial hair into smooth, clean lines.
CUSTOMER REVIEW | Panasonic LV9N Rechargeable Shaver
Best Shaver Ever
"I have had this shaver now for 2 months and OMG it does what it says it does. It does the smoothest shave, better than a razor and the cleaning docking station does clean the razor properly. 20 out of 10."
– Shaver Shop Customer Review, 5/5 Stars
SHAVERS
BODY GROOMER
Manscape unruly body hair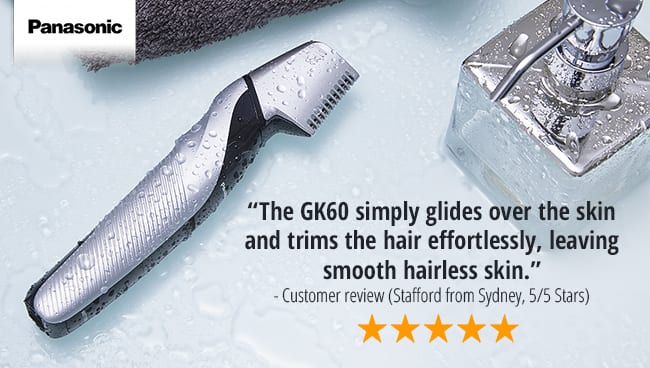 While there's no need to go hairless like an Olympic swimmer (zero judgement if that's your thing, though), a little strategic tidying will definitely add some polish to your overall appearance. This is where a body trimmer with a good choice of comb attachments comes in handy. Use the shorter comb to trim armpit hair so it doesn't protrude from your underarms, and a longer comb to take a little length off your chest, arm and leg hair. For the groin region, employ the shorter comb again to trim hair to a length that will feel neat and clean but still preserve a natural-looking aesthetic balance.
CUSTOMER REVIEW | Panasonic GK60 Body Groomer
Does what it says it will!
"This product actually does what it promises to do! I have bought many other devices in the past that all turned out to be a waste of money, but this product delivers the results you want with ease. I use it for my thighs and arms (female) as I find anything else (waxing, shaving) irritates my sensitive skin too much. This device is great and no irritation!"
– Shaver Shop Customer Review, 5/5 Stars
BODY GROOMERS
NOSE TRIMMERS
Banish pesky stray hairs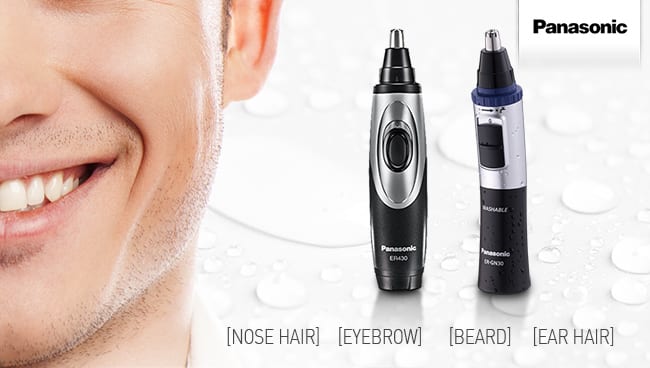 There's no way to make the little hairs peeking out of your nose and tufting off your ears look acceptable. Give them the chop BUT remember how delicate your nose and ears are before you even think about attacking them with scissors or tweezers. Instead, use a tapered trimmer to prune the hair from your nostrils and then run it lightly over any obvious hairs sprouting along your ears. Do remember that nose hairs serve a purpose in preventing dirt from doing damage inside your nose, so don't go crazy. Just trim the unsightly excess hair!
CUSTOMER REVIEW | Panasonic ER430 Vacuum Nose Trimmer
Excellent and effective trimmer
"Had this trimmer for a few weeks and it lives up to its claims. Have wasted time and money on these products for years. All inferior products but this one is one that promises and delivers."
– Shaver Shop Customer Review, 5/5 Stars
NOSE TRIMMERS
WATER & AIR FLOSSERS
Focus on dental health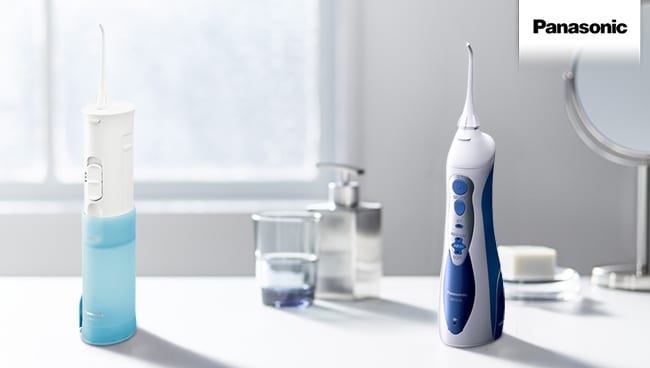 Daily oral health should be a priority because clean teeth and good breath will definitely boost your social confidence. Everyone knows they should be flossing for really effective dental care but string floss is so awkward and messy that this step often gets neglected. Skip the horrible string and switch to a water/air flosser to get a dentist-style clean at home that will keep your teeth and gums in tip-top condition.
CUSTOMER REVIEW | Panasonic DJ10 Water Flosser
Best Teeth Clean Ever!
"I bought this a week ago and absolutely love using it. It cleans between your teeth and along the gum line much better than a brush does. I wanted a portable water flosser, as was finding it impossible to use dental floss in the tight areas between my back molars and a crown I have."
– Shaver Shop Customer Review, 5/5 Stars
DENTAL FLOSSERS

PANASONIC PERSONAL CARE RANGE